6 trends that will disrupt healthcare in 2021 (and what you can do about it!)
It's no secret that 2021 is already proving to be a year of disruptive change. From the ongoing effects of the COVID-19 pandemic, to the implementation of virtual care access models, a continued need to improve hospital operating margins, and navigating a new administration in the White House exists. The multiple upheavals 2021 is seeing already ensures this will be a year like no other.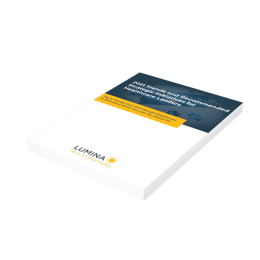 Our new whitepaper, 2021 Trends and Recommended
Strategic Initiatives for
Healthcare Leaders, will help you identify the influences in the market that will shape the present and future trajectory of the healthcare industry.
Inside, we provide specific approaches that healthcare financial leaders—like CFOs, chief medical officers, and other financial decision-makers— can implement to stay ahead of the curve today and beyond. For each trend, our report draws on Lumina's deep expertise to offer actionable advice to help health systems, hospitals, and medical groups improve their financial performance and thrive.
This guide covers:
An analysis of six trends: primary care, payer alignment, commercial contracting, expanded coverage, site of service and digital health.
The top strategic initiatives that healthcare leaders can build to improve financial performance and create a strong organization going into 2022.
The five categories that will help set the tone for goal-setting.
2021 presents challenges that can be turned into opportunities with the right foresight, planning, and action.
Access the whitepaper now to transform industry trends into wins for your organization today.
Whitepaper Author:


Daniel J. Marino
Managing Principal, Lumina Health Partners