The 7 Metrics That Accurately Gauge Your Healthcare Organization's Financial Health
Financial health executives are used to making data-driven decisions. But the COVID-19 pandemic poses a challenge: In this uncertain climate, what metrics can you rely on to form an accurate picture of your organization's financial health, its prospects as the pandemic continues, and the map to recovery?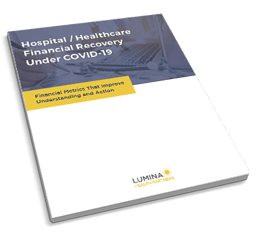 Our new whitepaper, Hospital / Healthcare Financial Recovery Under COVID-19, will help you discover the right data-driven approach for your organization.
Unlike many resources out there, this whitepaper doesn't prescribe a "one-size-fits-all" path through the coronavirus crisis.
Instead, we examine the specific metrics healthcare financial leaders—like CFOs, chief medical officers, and other financial decision-makers—should monitor during COVID-19 to get the clearest, most accurate picture of their financial landscape. For each metric, our report draws on Lumina's deep expertise to offer actionable advice for using the metric to guide your organization toward financial recovery.
This guide covers:
How to understand the current COVID-19 infection rates throughout the country and what regional differences might mean for your organization.
The three most useful balance sheet metrics for evaluating your organization against industry benchmarks.
The four income statement metrics that matter when setting goals and taking action to achieve those goals.
COVID-19 is a setback. But it doesn't have to be a catastrophe. Access the whitepaper now to gain a better understanding of your healthcare organization's financial position during this once-in-a-lifetime crisis.
Featuring:


Steven Berger
Principal, Lumina Health Partners