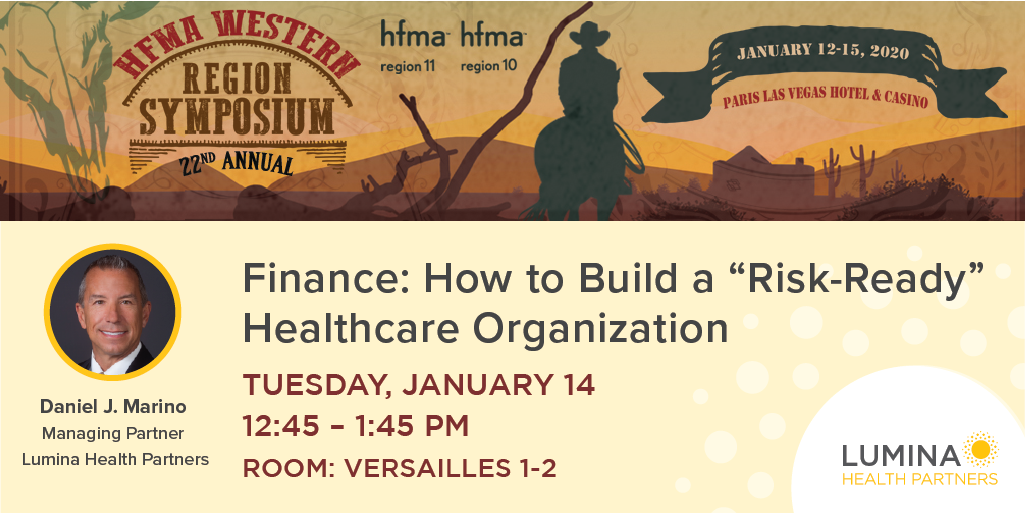 Facing growing pressure from insurers to assume more financial risk, healthcare providers are exploring ways to better manage cost and utilization through risk-based contracts.
Unfortunately, the approaches these organizations have adopted are too often inadequate, because their executive teams are giving most of their attention to the contract itself and not enough thought to what they will do once the agreement is signed. Although several health systems have found success in risk-based contracting, achieving that success required a significant transformation in management and care delivery.
Effective contract negotiation and contract execution depend on the same set of capabilities. To succeed in risk-based contracting, providers need to build an infrastructure that supports every dimension of risk management—from risk modeling and contract design to population health strategy.
Lumina Managing Partner Daniel Marino explored these capabilities in his presentation at the HFMA Western Symposium 2020, and a condensed version of the slide deck is now available here for download.
Learning Objectives:
Understand the nuances of contract modeling and negotiation.
Understand how care management and coordination support value-based care.
Understand how analytics and technology play into the transition to value-based care.
How leveraging relationships and alignment can help your organization achieve its goals.
Fill out the form to download the condensed slide deck from this HFMA presentation. For the full-access version of the slide deck, please email us at info@luminahp.com.